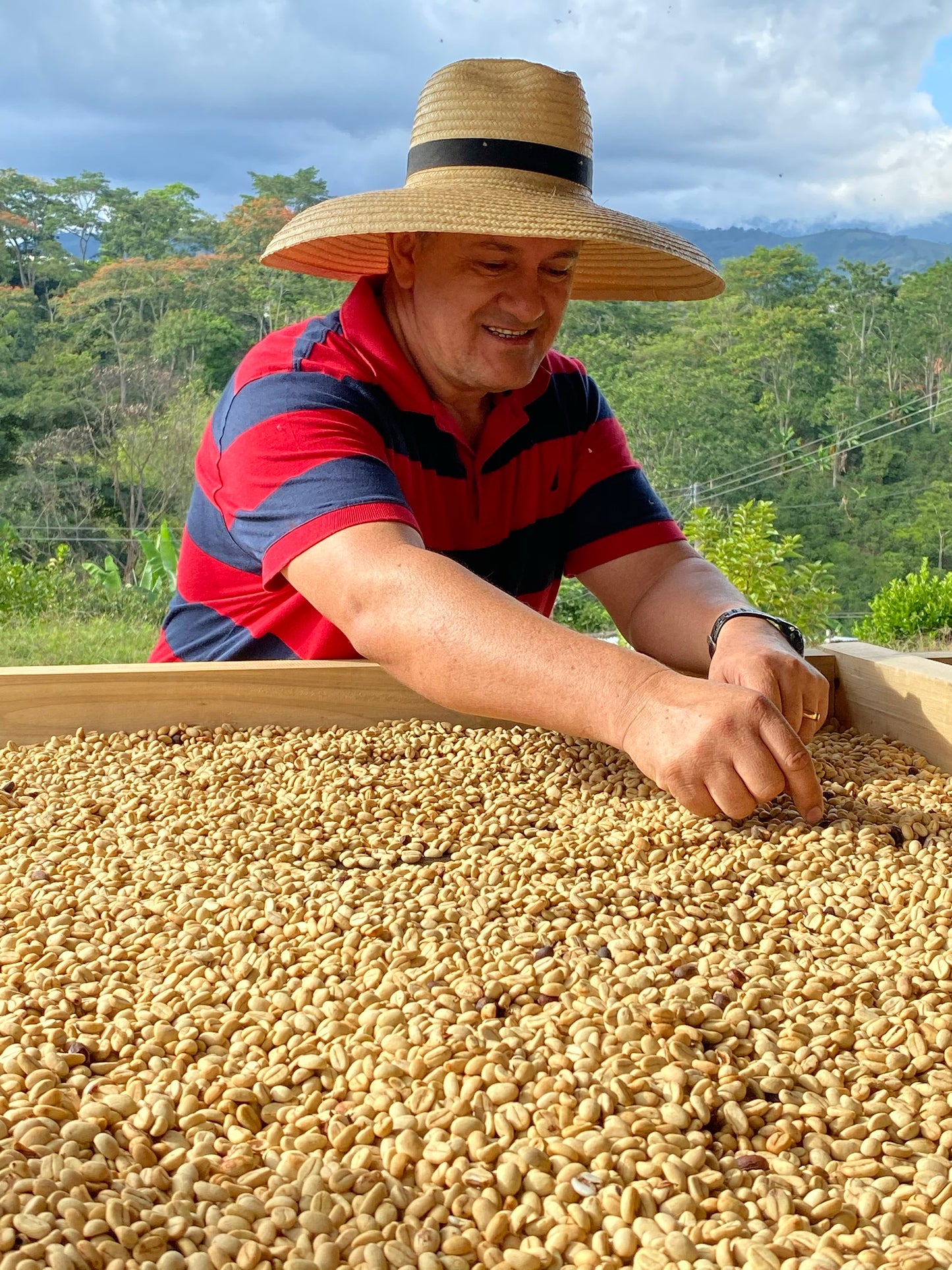 We were introduced to Favio Valenzuela like most coffee partners- at the cupping table. Before meeting Favio, seeing his farm and drinking coffee with his family, we tasted his coffee. It stood out amongst the other coffees with strawberry sweetness and mellow lemon notes. It was a fan favorite amongst the cuppers. 
Farm Select
In 2019 and into 2020 (just before the pandemic grounded us) we were spending a lot of time and energy in coffee developments in Colombia. We were working with Cafe Imports and Banexport to develop a new buying structure to provide sustainable pricing structures to coffee producers, and more traceable offerings for roasters. 
At Duluth Coffee Company, we want to participate in the trade of coffee with as much intention and integrity as possible. Being connected with coffee producers and influencing the livelihood of the farmer's family is what inspires us. Our buying decisions have a direct impact on the farmers across the world. That's why we helped pioneer the Farm Select program.
This is why we value our relationships with Cafe Imports and Banexport. They understand our intentions and want to work with us to create a sustainable coffee trade. We couldn't have done it without them. Banexport, operating in Colombia, works with the local communities and understands the local culture. They were the reason Favio's coffee was on the cupping table. They selected producers within the area that are focused on quality over quantity. We tasted over 20 different coffees and narrowed down the offerings to William Munoz and Favio Valenzuela. 
The Road to Salado Blanco
After cupping Favio's coffee, we made the journey out to his property to meet Favio and his family. The winding road brought us through the coffee hills. Lush valleys laid underneath the hills, crested with clouds. Coffee country is home to the most beautiful places in the world.
Favio greeted us with a smile and invited us to sit down and enjoy a cup of coffee. We expressed how much we loved his coffee and how we're excited to work with him. So much so that we committed to his entire crop. 
Purchasing an entire crop is a relief to producers. We committed to the coffee before it was even picked or processed. This is an important aspect in buying for us, as we know it eases the mind of producers and establishes a relationship in trust. He felt empowered by it and delivered great coffee for this crop.
The Future for Favio
You will see many different offerings from Favio in the future. He is sorting coffee by variety, which takes a tremendous amount of time during harvest, but he understands that he can create delicate offerings and increase traceability. His farm is primarily planted with the variety Pink Bourbon, as it produces sweet coffees balanced by citrus and a smooth body. 
Expect to taste great coffees from Favio!